There is one guaranteed way to get apples ate around here: pull them out and start peeling them to dehydrate them! Kids just start coming out of the wood work and scarfing them down! LOL!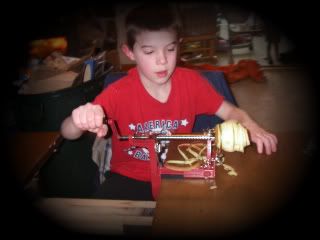 My kids got me this apple peeler, corer, slicer for Christmas this year and I just love it!! It is so fast and easy to peel up apples and potatoes with it! It is so easy to use that my 8 yo can do it! (Ummm...and don't even think about doing it yourself if you have littles or you will have a mutiny on your hands! LOL!)
Then I cut the peeled, cored, sliced apple down the center to get them into perfect half moons.
Then I dip the apples into lemon water to preserve the color.
Then I lay them out onto the dehydrator trays, put it on the temp for fruit, and then dehydrate until they are done..which is anywhere from 6-12 hours. Then I put them in an airtight glass canning jar for storage.